Soft Aerial Yoga with Stanna Bruce  – 29 
February 

11.15 – 13.15
February Heart Opener Aerial Yoga Workshop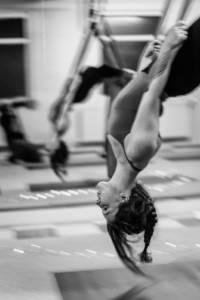 Lasting two hours, this Februarys workshop will focus on heart opening asanas with the yoga swing. Starting with a low swing and progressing to a higher height we aim to open and connect our bodies to feeling free in the heart. 
No matter who you are or what you believe your body can do, we welcome all abilities.
What to expect? 
"Vayu Aerial Yoga is a practice that was developed to create space mentally and physically, by opening up the body through a series of various postures using a custom designed yoga swing. The Swing is a support system and tool used to facilitate and understand alignment while creating space within the body. Through specific articulation of movement and postures we incorporate strength and the lengthening of the muscles isometrically to create core strength and balance as well as allowing the nervous system to relax. Inverting the body while suspended in the air not only provides many physical benefits such as spinal decompression, it also expands the mind by creating confidence, overcoming fear and allowing a change in the standard physical perception. It is truly the experience of a floating meditation"- Ana Prada, Founder of Vayu Aerial Yoga.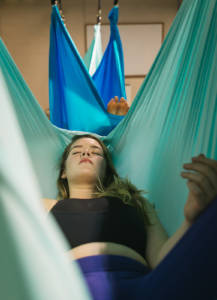 About Sianna Bruce
Born in Scotland, Sianna trained professionally in Dance, beginning at the Scottish School of Contemporary Dance, she then went on to complete her Bachelors Arts Degree in Performing Arts from the Liverpool Institute for Performing Arts (LIPA). Her love for Aerial blossomed during her dance studies and since graduating Sianna has been fortunate enough to perform and teach Aerial internationally. 
Yoga has always been a part of her life and at start of 2015 Sianna gained a teaching certification in Vayu Aerial Yoga from an intensive training course in Costa Rica with Ana Prada. Now based in Stockholm, Sianna wishes to bring this unique and invaluable approach of combining Aerial and Yoga to Stockholm.